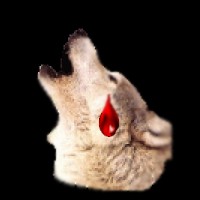 Today, the United States leads the nations that trap
wild animals for their fur, closely followed
by Russia, where accurate statistics
are difficult to obtain.
Canada, which traps approximately 4 million animals
each year, completes "the big three"
wild fur-producing countries.
There are few absolutes in the trapping business,
but what is certain, is that animals cannot be
trapped humanely, that no one needs to wear fur,
and that trapping is a non-essential activity.
What is also certain, is that while trapping
continues, tens of millions of animals will also
continue to suffer and die each year,
in bloody, protracted deaths.

All in the name of fashion.....

'Tis strange how women
Kneel in church
And pray to God above;

Confess small sins
And chant a praise,
And sing that He is love.

While coats of softly
Furred things
Upon their shoulders lie.

Of timid things...
Of tortured things
That took so long to die...

'Tis strange to hear
The organ peal:
"Have mercy on us Lord"

The benediction,
"Peace to all"
They bow with one accord.

While lights from stained
Glass windows fall
On furs so softly warm.

On timid things,
Of little things
That died in cold and storm...

~Anti-Trap League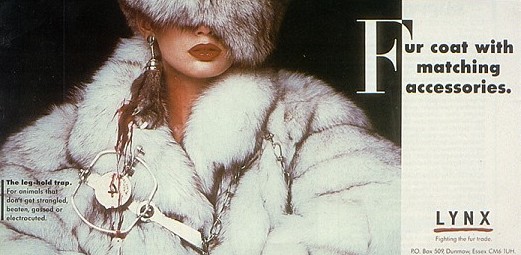 I am the voice of the voiceless;
Through me the dumb shall speak,
Till the deaf world's ear be made to hear
The wrongs of the wordless weak.

And I am my brother's keeper,
And I will fight his fight;
And speak the word for beast and bird
Till the world shall set things right.

~Ella Wheeler Wilcox


"Furs look best on their original owners.
We are aware of the great suffering unavoidable
in the production of fur coats. We would encourage
compassionate people to find beauty
without the cruelty involved in real furs."

~Beauty Without Cruelty
175 West 12th Street, New York, N.Y. 10011
Johnny Carson * Federico Fellini * Jonathan Winters * Alice Walker
Kim Novak * Joan Baez * Dan Aykroyd * Norman Cousins *
Rue McClanahan * Pete Seeger * Cleveland Amory * Sir John Gielgud
Tippi Hedren * Bruce Jenner * Paul & Linda McCartney * Peter Falk
Milos Forman * Lorenzo Lamas * Burgess Meredith * Doris Day
Art Linkletter * Theodore Bikel * Judy Collins * Ali MacGraw
Arlo Guthrie * Glenda Jackson * Cyndi Lauper * Marsha Mason
Anne Meara * Sally Struthers * Richard Kiley * William Peter Blatty
Rhonda Fleming * Dudley Moore * Suzannah York * Loretta Swit
Betty White * Jack Lemmon * Timothy Bottoms * Carol Burnett
Ben Kingsley * Roberta Flack * Christie Brinkley * Ted Shackleford
Yehudi Menuhin * Erich Segal * Brigitte Bardot * Yvette Mimieux
Ringo Starr * Virginia Madsen * Beatrice Arthur * Jack Jones
Brenda Vaccaro * Julie Christie * Sting * Martin Mull
Twiggy * Rod McKuen * Peter Gabriel * Florence & Sid Caesar
Bob Barker * Floyd Patterson * River Phoenix * Gretchen Wyler
James Stewart * Rita Moreno * Belinda Carlisle * Bo Derek
Jane Goodall * Willard Scott * Ann Jillian * Kim Basinger
Ally Sheedy * Steve Martin * Daryl Hannah * Dennis Weaver * Kenny G
N.B. ....
Although some of these caring, compassionate people
are no longer with us, their humanity will endure forever.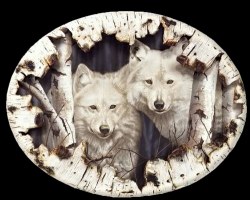 FUR COATS ARE WORN BY BEAUTIFUL ANIMALS
AND UGLY PEOPLE

FUR....THE LOOK THAT KILLS

GET A FEEL FOR FUR....
SLAM YOUR FINGERS IN A CAR DOOR

THIS YEAR MILLIONS WILL BE KILLED
BECAUSE OF WHAT THEY'RE WEARING



RELATED LINKS
FUR SHAME
PETA EUROPE
CONSUMER FRAUD AT FUR SALONS
SIGN THE "FUR IS DEAD" PETITION
FUR IS DEAD
PETA: FUR IS DEAD.COM
HUMANE SOCIETY:
YOU SHOULD BE ASHAMED TO WEAR FUR
FUR FACTS
BURLINGTON COAT FACTORY
BEVERLY HILLS BACKS FUR TRADE

And in closing, I leave you with these words of wisdom...

"Cowardice asks the question, Is it safe?
Experience asks the question , Is it politic?
Vanity asks the question, Is it popular?
But conscience asks the question, Is it right?
And there comes a time when one must take
a position that is neither safe,
nor politic, nor popular, but he must take it
because his conscience tells him that it is right."
~Martin Luther King, Jr.

THIS "FUR IS DEAD" PAGE CREATED AND MAINTAINED BY
RAVEN